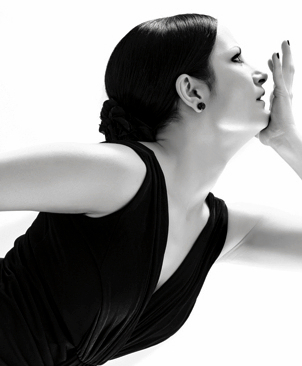 Theater artist Fulya Peker's dialogue with arts and aesthetics began with painting classes. Soon images transformed into words, and her interest in poetry led her to theater.
She completed her BA in Theater at H.U. Ankara State Conservatory, and her MA in Theater, Literature, History and Criticism at Brooklyn College/CUNY. She interned at the 13th Street Repertory Theater as an assistant to the literary manager, at the Wooster Group and the Ontological-Hysteric Theater as a production assistant.
In New York, she performed in works by the leading figures of experimental theater and music such as Richard Foreman, John Zorn, and Robert Ashley. She also worked with butoh dance master Katsura Kan, photographer/director David Michalek, and experimental opera group Object Collection. While presenting her own work as a writer and director, she also collaborated with fine arts, literature, and philosophy organizations on projects concerning ritualistic and avant-garde theater. Her poems, translations, and articles on experimental theater were published both in Turkey and the USA.
Peker, as the founder of Modern Mythologies Project and the founder/artistic director of the theater group Katharsis Performance Project, continues to present performances; develop and teach new approaches and interdisciplinary projects on acting, writing, directing internationally.
In her projects Peker uses a performance technique she developed, inspired by the incongruities built up over time between the physical and vocal expressions of the body. The goal is to trigger the primal sensory connotations of words and to stimulate the body to freely respond to them once again; to create awareness of the interaction, integration and interruption between the forms and sounds.
Currently, she continues exploring metaphorical analogies between philosophy, physics, philology and physiology via theater; as well as searching for unfamiliar textual, physical, and vocal expressions by experimenting on different states of human consciousness.
Tiyatro sanatçısı Fulya Peker'in sanat ve estetikle olan diyaloğu resim dersleriyle başladı. Daha sonra imgeler kelimelere dönüştü, ve şiire olan ilgisi onu tiyatroya yöneltti.
H.Ü. Ankara Devlet Konservatuvarı, Tiyatro bölümünde lisans; Brooklyn College/ CUNY Tiyatro, Tarih, Edebiyat ve Eleştirisi bölümünde yüksek lisans eğitimini tamamladı. 13th Street Repertory Theater'da baş dramaturg asistanlığı, Wooster Group'da ve Ontological-Hysteric Theater'da prodüksiyon asistanlığı stajı yaptı.
New York'ta deneysel tiyatro ve müzik alanında Richard Foreman, John Zorn, ve Robert Ashley gibi önde gelen isimlerin eserlerinde sahne aldı. Bunun yanında butoh dans ustası Katsura Kan, fotoğrafçı/yönetmen David Michalek, ve deneysel opera eserleri sunan Object Collection ile çalıştı. Bir yandan yönetmen ve yazar olarak kendi projelerini sergilerken, bir yandan da rituel ve avant-garde tiyatro üzerine güzel sanatlar, edebiyat ve felsefe organizasyonlarıyla ortak projelere imza attı. Şiirleri, tercümeleri ve deneysel tiyatro alanındaki makaleleri hem Türkiye'de hem de Amerika'da yayınlandı.
Peker, Modern Mythologies Project'in kurucusu ve tiyatro oluşumu Katharsis Performance Project'in kurucusu/sanat yönetmeni olarak performanslar sunmaya; disiplinlerarası projeler ve yeni oyunculuk, yazarlık, yönetmenlik yaklaşımları geliştirmeye ve eğitim vermeye uluslararası alanda devam etmektedir.
Projelerinde Peker bedenin fiziksel ve vokal ifade biçimleri arasında yıllar içinde birikmiş olan bağdaşmazlıklardan esinlenerek geliştirmiş olduğu bir performans tekniği kullanmaktadır. Amaç sözcüklerin ilkel duyumsal çağrısımlarını tetiklemek; bunlara yeniden özgürce tepkime göstermesi için bedeni uyarmak; biçimler ve sesler arasındaki etkileşimler, uyuşumlar ve kopukluklar konusunda farkındalık yaratmaktır.
Halen, tiyatro aracılığıyla felsefe, fizik, filoloji ve fizyoloji çıkarımları arasındaki metaforik analojileri incelemeyi; insanların farklı bilinç durumlarıyla ilgili deneyler yaparak alışılagelenin dışındaki metinsel, fiziksel ve vokal ifade biçimlerini araştırmayı sürdürmektedir.